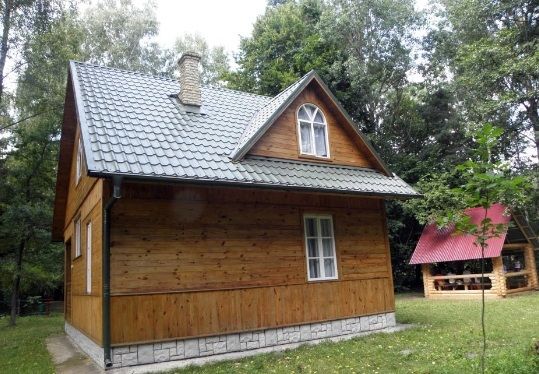 In august 13, 2004 in the tract Nechymne in Skulyn near 17 km. from Kolodyazhne, this picturesque corner of Polissia gathered writers, admirers of Ukrainian Lesia on the 4th poetic literary and arts festival "Forest Song". The main event of the festival was the opening of the Museum "Forest Song". In the new building there was opened an exhibition, over which the team Kolodyazhne literary-memorial museum of Lesya Ukrainka and artists of "Fortuna-plus" from Lutsk worked.
In the Museum "Forest Song" there are books, documents, letters, photos that tell us about this charming corner of Volyn, also the story of writing the "Forest Song", a lot of things that have survived since the time when Kosach lived in these areas. The drill, wooden mortars near the bench, comb for carding flax, special dishes straw for storing grain, clothes, old towels are set here.
In a small room there was recreated an ukrainian house of the late XIX - early XXth century. The separate room is reserved for works of Sofia Karaffy-Korbut, an artist from Lviv, which illustrate the story "Forest Song" (computer copies).
Address: 45061, Kovel district, ur. Nechymne (near Skulyn 17 km. from Kolodyazhne).