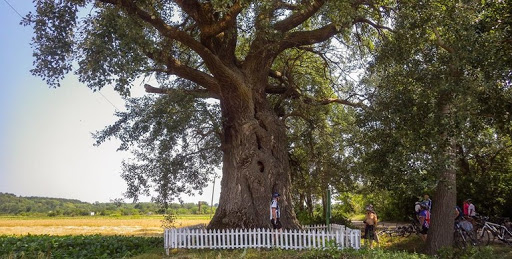 A tree 27 meters tall and nearly 10 feet in circumference of the trunk, grows in Goshcha district near the village Uhiltsi. This white poplar oldest of all, growing up in Europe. She is approximately 450 years. Tree included in the register of natural reserved fund of Ukraine and recognized as a botanical natures monument . Recently, it was fenced and set billboard with information. Now there are a lot of tourists from all neighborhoods and brides . This white poplar often local called aspen . Why - nobody knows. Retell only the legend about the tree. According to one at some holiday amidst fierce winters local girl went to a neighboring village, where he was her guy.
A local geography teacher was interested in a huge poplar. Together with the scientist Yuri Grishchenko they examined the tree. Established that this poplar is the oldest in Europe. Thanks to the work of researchers tree made in the register of natural reserved fund of Ukraine. "Uhiletsk poplar" already a year since botanical Memory creation in the nature of local importance. Usually poplar for 80 years grow to 20 meters, says researchers .
This tree is still growing, suggests a former graduate student researcher at the University, only slowly. Over the past three to three and a half centuries tall poplar drove for seven yards. Why some trees become old already in 50 years, and some grow to five hundred, scientists have not determined exactly. The type or kind is little affected. If this damage the tree, the abuser waiting nearly eight thousand fine. And those who would destroy - pay nearly thirty thousand. Amounts insignificant, researchers say, compared with the value of poplar. But locals fear no harm. Know another legend: All saws and axes, which wave on their "Aspen" stuck or broken.
Address: 35442, v.Uhiltsi Goshcha Distric