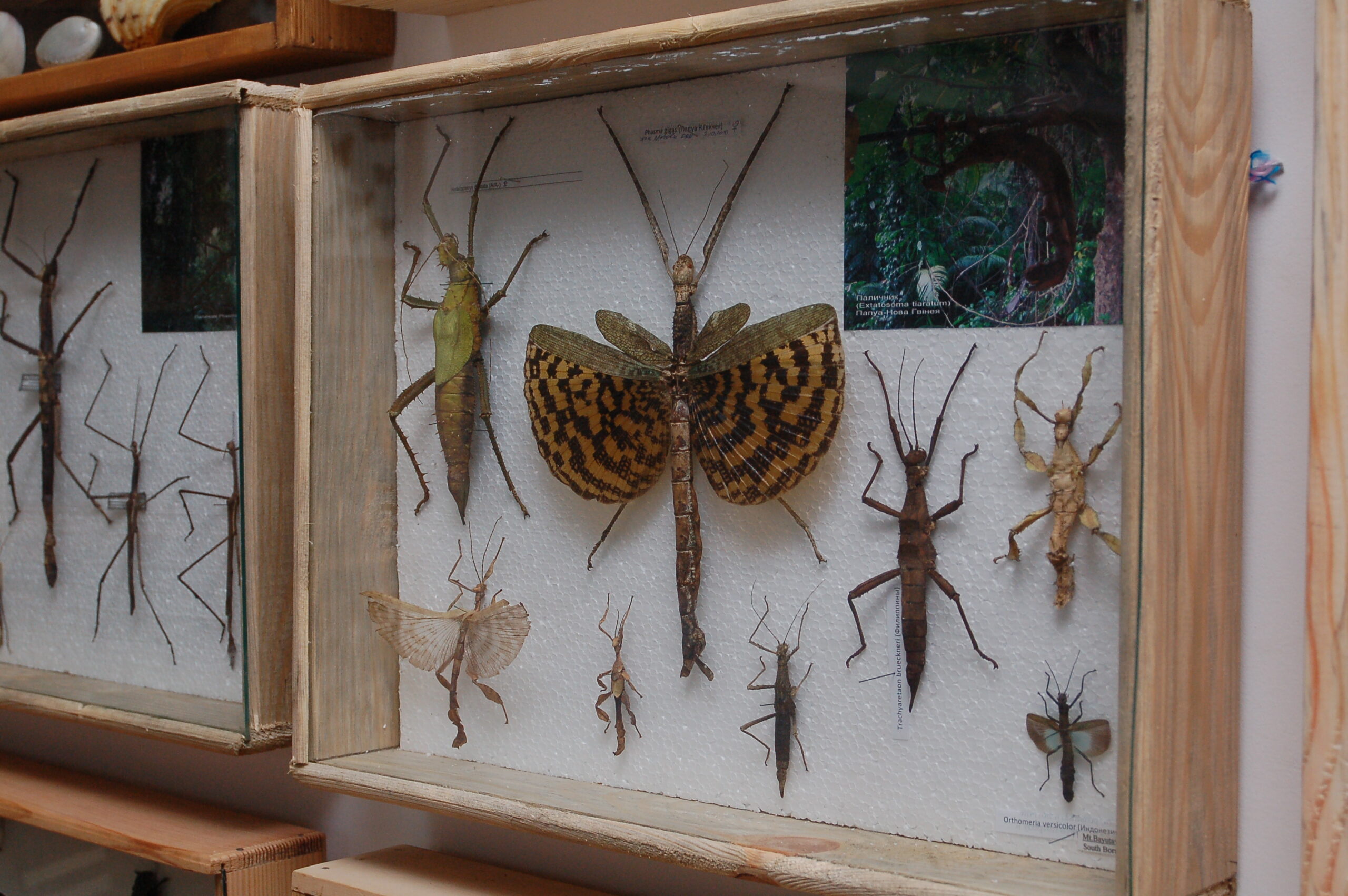 Museum includes more than 2500 copies. rare animals, mostly invertebrates inhabitants of tropical seas and coasts and forests. Exhibits are rare for Ukraine, it's exotic inhabitants of the seas, oceans, rain rainforest and savanna.
The most interesting is the department in which the insects are represented by Africa south. America, South and South-East Asia and related islands. Diversity of fauna Ukraine collects beetles, butterflies, Hymenoptera, bedbugs, and other arthropods. Among the rare species are Brazhnik, dead head, Apollo black, Swallowtail, sailfish podaliriy, stag beetle, musky barbel, barbel large oak, beetle recluse. Many exhibits "born" from Afghanistan (beetles scarabs, scorpions, phalanx, the wasp skoliya, wood mantis, cockroach-ridden, river crab). The collection is the largest in the world scorpions, spiders, tarantulas, butterflies and beetles. From marine inhabitants - nearly three dozen species of crabs, a dozen crabs, lobsters, lobsters, sea urchins and star corals. Turtles from Cuba, the Barents Sea, the Atlantic and the Pacific, there is even a huge clams - policies with teeth clams, reaching the size of student desks and weight of 300 kg, jaws reef sharks in the Indian Ocean, sperm whale tooth and baleen, nose sword fish and flying fish .
And fossilized life forms: ammonites, belemnites, sea urchins and mollusks and corals, shark teeth extinct from Volhyn and mammoth tooth from Goshcha area. The most valuable item in the collection is the largest beetle insect world Hercules beetle length 14.8 cm Interesting wet preparations: tropical snakes and boa constrictors, exotic turtles -Gecko and salamanders, the heart of a crocodile, African lion cub and Amazon catfish. Balance collection continues: expedition to the Sahara, the Libyan and Arabian deserts in the Arabian mountains, the Red and Mediterranean Sea (2008) study of the islands of Java, Sumatra, Borneo, Bali, Komodo, New Guinea, and riparian zones Indian Ocean (2009 ). Today, in Western Ukraine a similar collection has only one institution.
Address: 33027, Rivne, str. Acad. Stephen Demyanchuk, 4