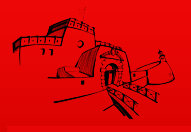 A story about an impregnable fortress and an eager bride
Recommended for people knowing what they want from life and what life wants from them
…Guests from all over the world were coming to the impregnable fortress. Noble men and beautiful ladies were coming to the town from the north and the south, the east and the west. They were rushing onto a rich wedding ceremony – the prince was marrying his beloved niece. And everything was ready for the fest. And the bride put her wedding dress on. Suddenly the town was surrounded by the dark army. The prince and his guests and the bridegroom got frightened. The niece got angry. In order to see those bold ones she ran to the castle wall, gave them a ferocious glare and ordered to load the gun. And when the shot sounded the castle habitants got stunned – the enemy chief tent was completely destroyed. And this time it was the right time for the enemy army to get terrified. So, they retreated. And the niece after all celebrated her wedding day.
Characters:
Impragnable fortress – Dubno castle built in 1492 and never captured.
The town – the town of Dubno in Rivne region
The prince – Kostiantyn of Ostrog, one of the richest nobles of that time
The niece – Beata Dolska
The dark army – tatar army
The bridegroom – The Solomeretsky prince
The chiefe – tatar khan
The tower – a small tower right under the river Ikva now known as "Beatka". Local people say it is worth visiting for those who want to get marry. Some people even write their names to be sure on the walls.
Photo gallery