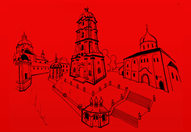 Recommended for those who look not only for material treasures
… The old king gifted an ancient castle to his queen. It was standing on a hill surrounded by a wall. The queen liked it. It resembled the queen her native land. She became its owner. The queen was not only a beautiful woman but she was also smart and active. She started new building to expand her property. Eager people to gain her treasures can be found even now. They say gold is hidden in the castle well. The queen image can be seen near that place once a year. She is dressed in white, bare-haired with a key in her hands. To take the key one has to be a brave man. But much more precious stuff than treasures is in this land. It is the very place where one of the most well-known orthodox sanctuary is, therewith wonder-working.
Characters:
The old king – Sigizmund I the Old, The prince of Poland and Lithuania
The queen – Bona Sfortsa, the Naples princess. The actual ruler of the country
The ancient castle – Castle of Kremenets
The hill – The Bona hill, 400m high. Named after the queen. Landmark of Kremenets now.
Native land – Italian town Bari
Started new building – Bona built a Franciscan monastery
Once a year – on the Easter Night
One of orthodox sanctuary – the Pochaiv Lavra