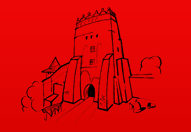 Money castle
Recommended for those who don't know how a 200-hryvnia banknote looks like
… The Lithuania prince got married to the princess of Volyn whom he loved with all his heart. He had got not only her heart but her castle as well. As it suited for a man he started building their common home made of stone. He did it well as a master. Decades had passed. Another prince received the castle. He was the very man who made the castle famous as he invited to it other kings from far away. They were busy with making important decisions how to protect themselves, how to win the enemy, how to unite churches. In his secret thoughts the prince saw himself sitting on a throne as a king. Even the diamond crown was on its way to him. But it wasn't destined… The castle survived all its owners and stands on its place till now. One day its picture appeared on the reverse side of the 200-hryvnia banknote.
Mini-vocabulary
TheLithuania prince – Lubart Gediminovich, the last ruler of the United Rus kingdom
The princess of Volyn – Busha from Lutsk, originated from the Danylo Halytsky family
The local castle – Lutsk castle or Lubart castle built in the 14th century. Probably the only one architecture monument dating back to the times of the great Lithuania kingdom in Ukraine.
The other prince – Vitovt the Great, the prince of Lithuania
Made the castle famous – in 1429 the well-known monarch summit took place including 15000 people while Lutsk population was 5000 inhabitants
Other kings – rulers from 15 countries
Important decisions – the idea of the European union was first mentioned
Enemy – the Osman empire
One day – Aug 22nd, 2001