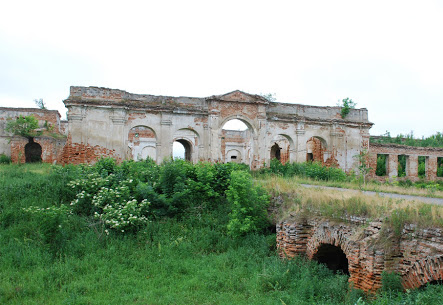 The architectural complex of the second floor. 16 - beg. 18 st. located in the heart of Novy Zaslav, on the cape at the confluence of the river Ponory to the river Goryn. A sample of the residential architecture of the Zaslavsky princes. It arose in connection with the founding of the city of Novy Zaslav by princes Janusz and Mykhailo Zaslavsky, which was first mentioned in 1579.
According to the oldest description in 1637, Novozaslav Castle consisted of a brick entrance gate, a palace with eleven rooms, and six rooms with tin-framed windows with Venetian windows. The palace also had a chapel with a sacristy, a bell, a garden in a circle, a stone house, a cellar, a kitchen. Around the palace was a bastion system of earthen ramparts and towers, Zeighaus, ancillary facilities. "From the field" the castle was protected by a wall.
The castle suffered significant damage during the Cossack uprising led by B. Khmelnytsky.
Novozaslav Castle became part of a new architectural complex after the construction of the palace of the Sangushki princes in 1754-1770.
Address: 30300, Izyaslav