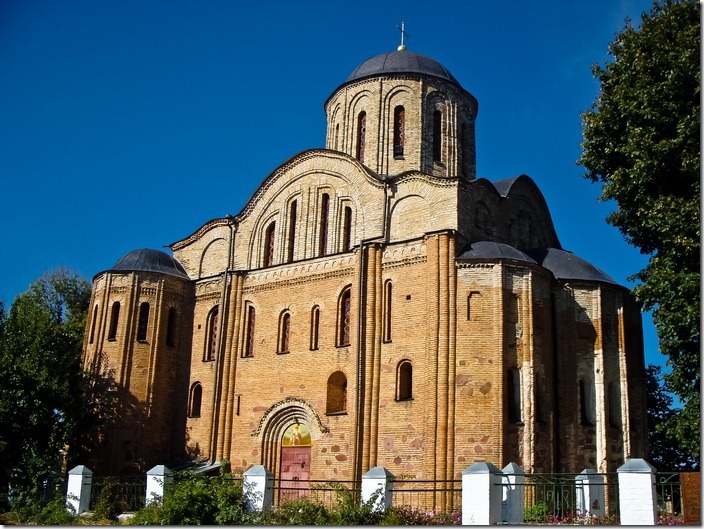 One of the oldest stone temples of Kievan Rus is the Church of St. Basil in Ovruch in the Zhytomyr region.
The brick cathedral was built around 1190. It was founded by Prince Rurik Rostislavich. The church was built on the site of an old wooden church (according to legend, built in 997 by Prince Vladimir the Great, who was baptized Vasily).
The church was probably built by Peter Milonig, the court architect of Rurik Rostislavich. The temple was part of the prince's palace complex. Initially, its dome was gilded, so the church was popularly called the golden roof.
The temple was repeatedly destroyed. It was twice attacked by the Tatars, and in 1321 it was destroyed by the Lithuanian prince Gediminas.
In the 16th century, a wooden church was built on the site of the ruins, which soon burned down. The next temple, built of wood on the same site, was dismantled in 1734 due to its age.
In 1848 the vaults of the ruined church fell, leaving three apses and part of the northern wall of the ancient Russian shrine. And at the end of the XIX century the church was completely destroyed.
In 1907-1912, the Russian architect Alexei Shchusev performed a truly jewelry work - he restored the church, collecting the remains of the northern wall on a brick. Thus, the Vasilyevsky Church of Ovruch was restored to its original appearance. At the same time, a two-story cell building of a nunnery, a refectory and a bell tower were built near the church.
Today the church looks like Kyiv Sophia. The decoration of its facades uses an interesting way of inlaying the walls with stones, sunk into the brickwork and polished from the front surface. Remains of gilded frescoes have been preserved on the interior of the church on fragments of ancient walls.
Address: 11100, Ovruch, street Proletarskaya, 2