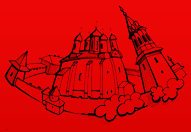 Monastery that Great Prince built
Recommended for those who believe in miracles
It was long ago. One prince was very famous. He ruled in the capital. But from time to time he used to return to his native land. Once he was riding near the river and saw caves. He felt grace on that place and built a wood church there surrounded by a fence. In due time the place was settled by monks and it turned into a monastery. The first Volyn saints were dwelling there. Nestor the Chronicler visited it. The time had passed. The monastery had seen both peace and war. But it experienced no hardtime. They say it is protected by the Holy icon if the Virgin Mary given as a gift by the prince. It was a family relic with which his marriage with princess Anna from Greece had been blessed. The icon turned to be wonder-working – and it is till now. The grace of the place is still felt.
Vocabulary:
Monastery - Saint Assumtion monastery. One of the oldest in Ukraine today.
The prince – Volodymyr Sviatoslavovych fro the Rurics
Long time ago – year 1001
Famous deeds – he baptized the Kyiv Rus in 988
Capital – Kyiv
Native land – Volyn
The river – Luga
The hill – the Holy Hill near Volodymyr-Volynsky
Caves – most ancient monasteries were dwelt in caves first.
Wood church – the prince Volodymyr built a wood church in honor of the Virgin Mary and the Holy trinity
Volyn Saints – Stephan and Amphilokhiy, the bishops
Nestor – the author of "The Old times Story"
Hardtimes – WW1 battles near the monastery haven't damaged it
Wonder-working icon – it heals illnesses