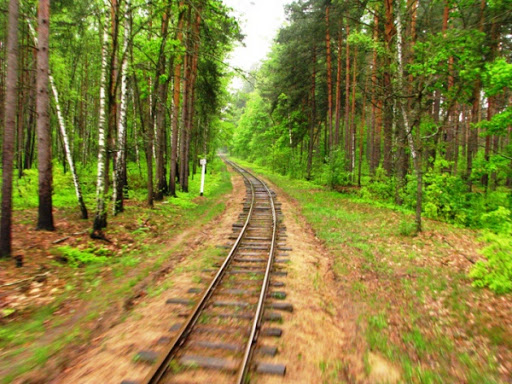 Narrow-gauge railway "Antonovka-Zarechnoye" is one of the three narrow-gauge railways operating in Ukraine with passenger traffic of 106 kilometers. Narrow-gauge railway Antonovka-Zarechnoye is popularly called "Ride" or "Cuckoo" - allegedly because they used diesel locomotives of the KU series to locomotives of the TU series. The media also has the name "Polessky tram", "Polesskaya narrow gauge railway."
On the stretch of Belaya-Mill is a unique bridge over the Styr River. This is the only large wooden railway bridge in Ukraine and the longest wooden railway bridge in Europe (length 153 meters). It connects two districts - Vladimiriretsky and Zarechnensky. When Stear spills in the spring, you can get to the opposite bank only through the railway bridge. Built-in 1906 (other data - 1908). Wooden poles, they do not seem to have changed since the construction of the bridge. Every time a train crosses a bridge, a duty officer will meet him.
In addition to this bridge, on the narrow-gauge railway there are another 30 small bridges - all wooden. The railroads are serviced by diesel locomotives TU2-062, TU2-066 (the last 2002 was transferred from Beregovoy) and TU2-097 - from the Lutsk Children's Railway. There is also a TU7A-0767 diesel locomotive belonging to the road repair team. The rails on the stage are "museum" - some 1902 issues.
At Antonovka station there is a museum of the history of the narrow-gauge railway. There are equipped recreation places along the route (Antonovka, Vladimirimets, Voronki, Beloye villages).
Address: 34380, s.Antonovka, Vladimir region, Rivne region