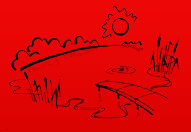 Lake legend
Recommended for those who like to recreate in picturesque places
…The prince was in campaign. He left his town and his only daughter. The dark night descended. Enemies attacked the town. In despair the girl asked heaven for mercy. All of a sudden the town vanished and on its place a huge water emerged, clean as a girl's tear. Only not salty. True or not, but a marvelous lake still exists there. Its deep is full with fish, and its water is clean. Greatgrandmothers of modern girls believed that water could turn youth back. There is no equal to that lake. Quite near other lakes appeared, not so deep but as much picturesque.
Vocabulary:
The water – The lake Svitiaz' in Volyn region
Huge – lake area is 25.2 sq.km., length – 9.3km, width – 8km, depth – 54.8m. The biggest and the deepest lake in Ukraine.
Full with fish – there are pike, carpbream, crucian carp, silurus, eel.
Clean water – karstic jrigin, water contains silver.
Other lakes – Shatsk lakes
Photo gallery