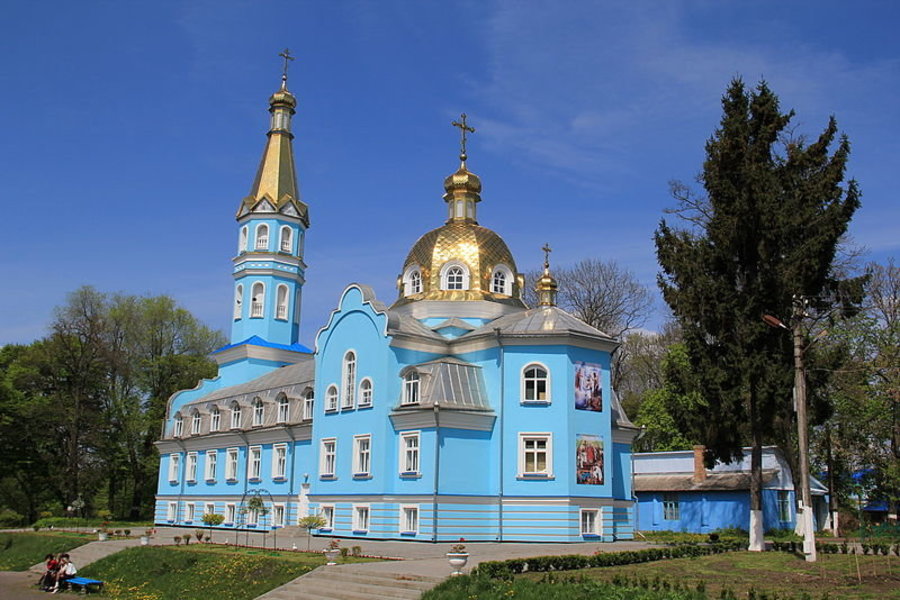 On interannual islands located St. Nicolas monastery in Gorodok. The monastery was founded in the late 16th century, has a deep history, occuring in the name of Baron Shteynhelya.
From Rivne to monastery are 5 km from the railway station, 8km, 10km from the airport.
The monastery is in the center of the village Gorodok near the north-western outskirts of the city of Rivne, is oval highland island in the river mouths, separated from the rest of the river sleeves rural development, with the world combined bridge in the western part of the island, surrounded by the old town park.
Gorodok documented known since mid XV. At the turn of XV-XVI centuries owner Gorodok, Princess Anastasia Olshanskaya, gave this estate with a castle on the island of Kiev-Pechersk Lavra. The first news of the town as Lavra estate dated March 6, 1516 On this day, Prince Konstantin Ostroskiy, married Tatiana the daughter of Anastasia, confirmed the covenant mother to transfer Gorodok Monastery. The island Gorodok Lavra established his hermitage.
Here is the Saint Nicholas Church - Memory "monument of the 17th century which stores Kozelschanska miraculous icon of the Mother of God" Merciful ". Icon is miraculous and healing from serious ailments, childless women gives joy of motherhood. Respected list Kozelshanskoyi Mother of God, called" merciful "- gift Lavra as the mother of St. Nicholas Monastery, delivered in town January 11, 2000 In memory of that day in the convent established annual local celebration.
Educational institutions at the monastery - a Women's Sacred Theological College, founded in 1991 as female regency courses present status received in 1993, music studio for children, opened in 1995: the study of God's law, participation in liturgical singing, painting, and needlework.
Hermitage and monastery courtyard are monastery Voznesenske of village Mlyniv Rivne region opened in 2003 in a building closed hospital . Saint George yard in Rivne rehabilitated in 2001 in a one-story residential building, negligent, but renovated by the monastery. St. Annynskyy skit (St. Anna) in 2000 was establishedon the long respected for its namesake source in the vicinity begun (p. Onyshkivtsi Dubno district of Rivne region)
Address: 35331, st.Monastyrska, v.Gorodok, Rivne district, Rivne region