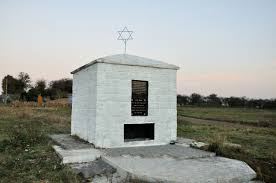 At the entrance to the village Velyki Mezhirichi on the side of the Rivne highway is an old Jewish cemetery. There are very few tombstones left. But you can see the memorial building, which was built in 1995, at the expense of the Jews of the village, who at one time left for Israel and other countries.
It is here that the old photo of the local Great Stone Synagogue, founded in 1713 by the Stetsky family, is preserved. Unfortunately, there are not even ruins left from the temple - it was destroyed during the Second World War.
Jews in the town have lived since its foundation. Before the start of World War II, almost three thousand lived in the city. In 1941-1942, in the Velyki Mezhirichi, the Germans killed most of the Jews.
Address: 34725, Koretsky district, village of Bolshie Mezhirichi