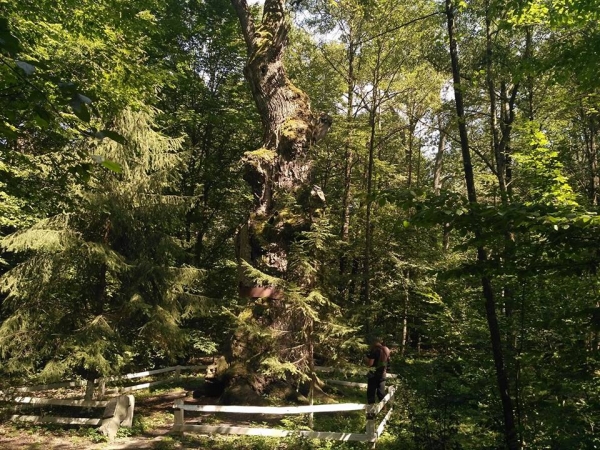 The natural Boundary "Yuzefinska Dacha" is the sight of nature of national value, created for the guard of an oak-patriarch. It has status of the oldest tree in Ukraine. This phenomenon was fixed in the Book of records of Ukraine. Local inhabitants consider the tree like oberih.
The full stretch of the oak trunk is more than 8 metres. The tree already existed in the 700th year. So it was the witness of those ancient times when the prince Ihor with his squad took the tribute from drevliany. The Yusefinskyi oak also saw the Tatar tribes who came to the Polissia regions. Legend has it that the Tatar cannon is in the river Bilovizh.
From XV century a natural boundary was in a domain of Ukrainian-Lithuanian princes of Radzyvyliv, from here comes the name of the surrounding forests – Radzyvyliv the dense forest. During the second half of XIX century the Polissia forests were mercilessly cut down by the German and other colonists. But natural boundary until now is being saved as a magic island among spreading zagorynski bogs.
The territory of botanical monuments of nature – Yuzefinska dacha – is very picturesque. It is the small pond, the bottom of which is covered by oak logs. The mighty pine-tree of Veimut grows here (its motherland is North America), and there are also a few fir-trees the age of which is more than 100 years. Among the oak planting there also can be found 500-600-years-old trees. Hazel the bushes which can have 8 metres in height also grows between them.
Address: 34221, Rokytniv district, Hlynne village