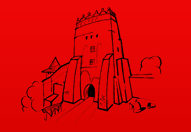 Money castle
Recommended for those who don't know how a 200-hryvnia banknote looks like
… The Lithuania prince got married to the princess of Volyn whom he loved with all his heart. He had got not only her heart but her castle as well. As it suited for a man he started building their common home made of stone. He did it well as a master. Decades had passed. Another prince received the castle. He was the very man who made the castle famous as he invited to it other kings from far away. They were busy with making important decisions how to protect themselves, how to win the enemy, how to unite churches. In his secret thoughts the prince saw himself sitting on a throne as a king. Even the diamond crown was on its way to him. But it wasn't destined… The castle survived all its owners and stands on its place till now. One day its picture appeared on the reverse side of the 200-hryvnia banknote.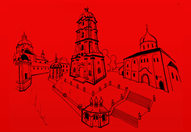 Recommended for those who look not only for material treasures
… The old king gifted an ancient castle to his queen. It was standing on a hill surrounded by a wall. The queen liked it. It resembled the queen her native land. She became its owner. The queen was not only a beautiful woman but she was also smart and active. She started new building to expand her property. Eager people to gain her treasures can be found even now. They say gold is hidden in the castle well. The queen image can be seen near that place once a year. She is dressed in white, bare-haired with a key in her hands. To take the key one has to be a brave man. But much more precious stuff than treasures is in this land. It is the very place where one of the most well-known orthodox sanctuary is, therewith wonder-working.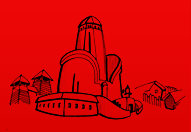 Peresopnytsia.
Recommended for incorrigible romantics and positive thinking realists.
Long time ago when the sun and the sky were lower and closer a princess lived. She wanted to make a wonder book – a book of no seen beauty. Wise monks agreed to assist her. They were drawing letters from the Holy Bible with sophisticated ornaments on its parchment pages. While they were making this wonder book, a lot of time had passed. They completed their work at a monastery. It's been a long time the princess and monks died, the monastery vanished. The book of wonder beauty has survived through times and has become an object of worship. Its name – the Peresopnytsia Gospel.