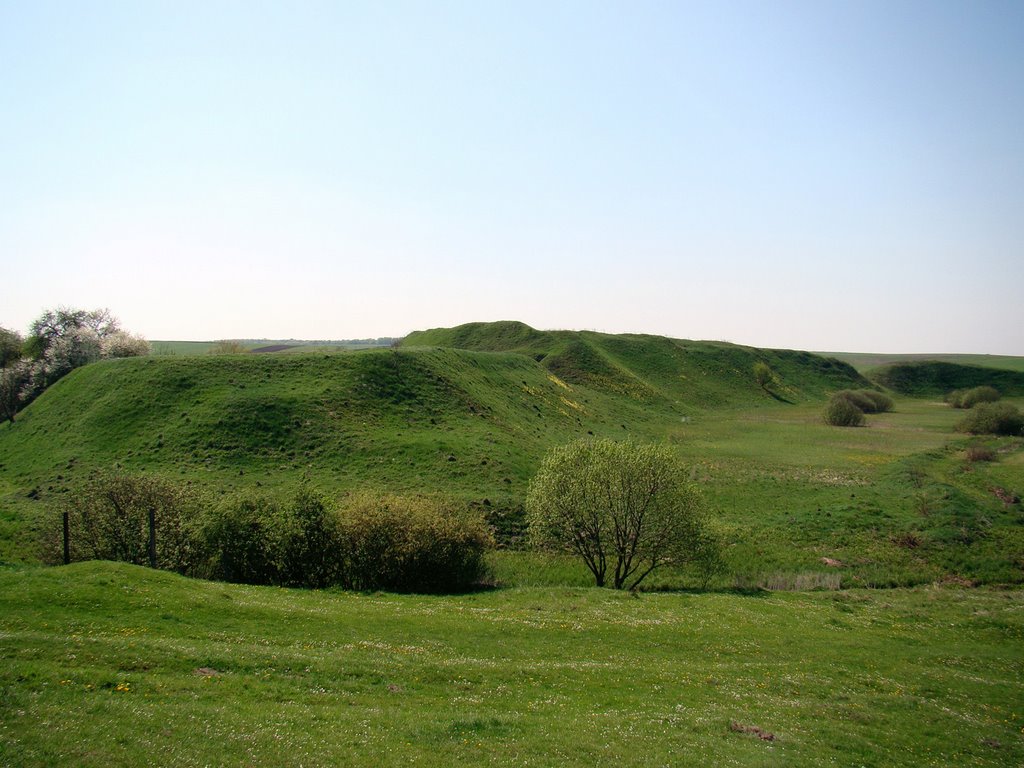 In a small town of Zymne there was found out and investigated a multi-layered archaeological monument: the remains of two tribes' settlements of the time of copper (III millennium B.C.), early Iron Age (IV-III cent. B.C.), and early Slavic settlement (VI-VII cent. A.D.).
The settlement in Zymne belongs to one of the biggest Slavic cultures of early dark ages – Prague. It is one of the oldest Slavic settlements, which are already considered the heart of the town.
In its plan it has a form of a wrong triangle 135 metres long, with the biggest width in the south-east part – 65 metres, the least is in the north-western – 14 metres. The general area of the fixed part is approximately 0.45 hectares.
The excavations of the settlement showed that it had been protected against paling and a wall made from fixed one on the other wooden logs, fastened by vertical posts. Three towers and a large wooden building, built on to the wall from an internal side also entered in the system of strengthening. Weapon and things of military obladunky were found – it probably means that there were combatants and one of the leaders. As finds of wares and tools certify, handicrafts developed within the limits of strengthening: kostorizne, blacksmith, jeweller. In particular, bronze, silver and ferrous decorations were made: bangles, buckles (one of them reminds a bird a form). The small laundry moulds, tygelks, and anvil were also saved. Found out priaseltsias complicated in a form from a marl chalk allow to draw a conclusion, that for a stone till a lathe was used. The Byzantium coin of Emperor Justin (or Yustynian) was also found.
Approximately in the middle of the VII century A.D. the site of ancient settlement, fully destroyed by avars, stopped its existence. As historians assume, some of the habitants of Zymne, after destruction of the settlement, chose a new place as their settlement and it was the place where there a modern town of Volodymyr is situated.
First information about this settlement and non-existent now nearby burial mounds of appeared at the end of XIX – at the beginning of XX centuries.
Address: 44752, Volodymyr-Volynskyi district, Zymne village