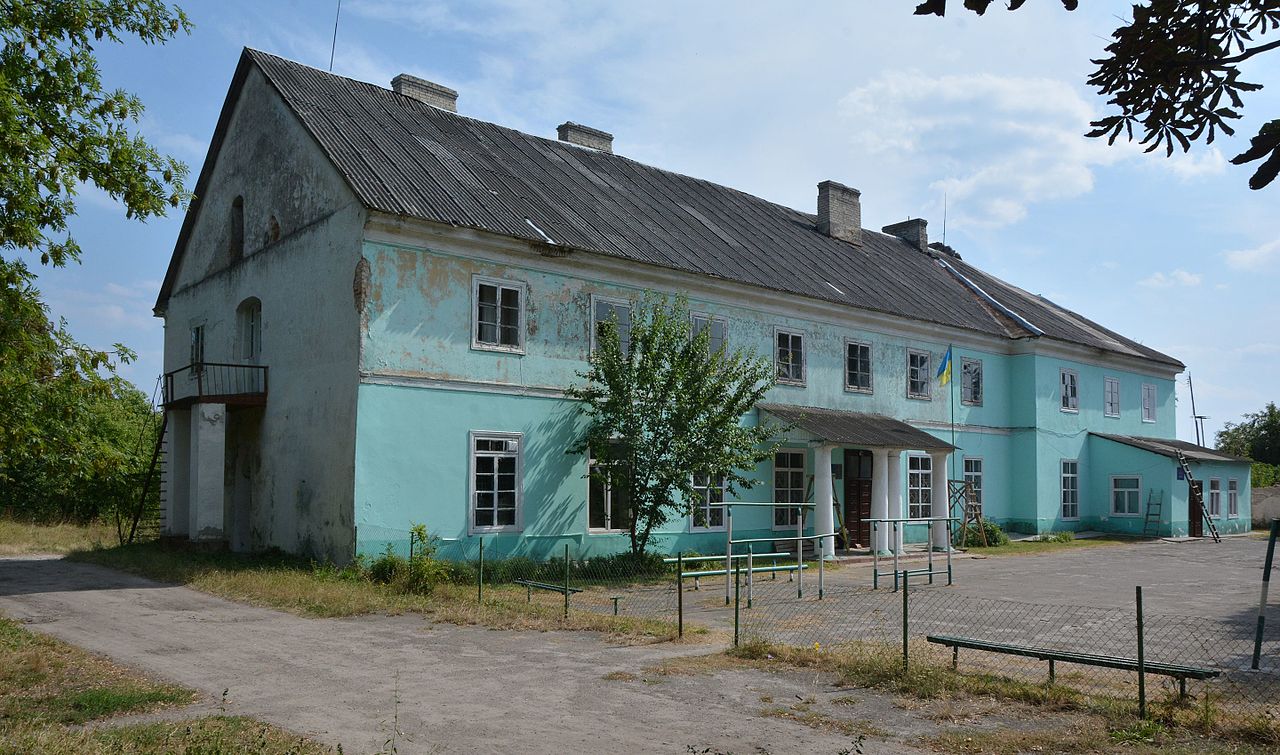 In 1768 Earl Francishek Xavier Branitskiy received the land of Lyuboml as a gift for saving the life of the future King Stanislaw August Poniatowski at the Sejm session. Magnate immediately began to put the place in good order. Here up to 1781 he laid a large residence that fundamentally blended into the structure of the historic center Lyuboml.
It was a large palace building, which consisted of four parts.To the present time only a two-storeyed south part of the palace survived . On the north side it is two-storeyed, but slightly lower building is adjacented to it. It is believed that the first and second floors were appointed for the guest reception as well as that of the numerical tycoon. Further, in a northerly direction, the building front was continued by a one-story gallery (one can assume that the building was used as the winter garden or that the balls took place here). The body is completed by the main palace buildings (the north part). This is an early classical building with slightly accentuated central pseudoavant-corps on the main facade, completed with a triangular pediment. The front of the main facade of the palace was focused on the central market square of the city, creating an axis the "palace" - "zamchysche" - "market". To the north of the palace a large garden surrounded by a stone fence was built.
At the end of the 18th century Tadeusz Kosciuszko uprising broke in Poland . It is a known historical fact. However, not everyone knows that near the Lyuboml town important events took place and as a result the crown hetman Branitskiy was considered to be a traitor. In 1794 Kosciuszko supporters knocked the estate door. Elderly Francishek Xavier had not joined the rebels, becaouse of feeling unwell. However, his regiment, despite the will of the lord, did otherwise. Old Count had been arrested. While the "traitor" was inprisoned in his own home the earth of Lubomil got to know the boots of Kutuzov and Suvorov. The famous generals, of course, did not visit the city ... It is not the job of the rich – to save the Hetman and his possessions.
The tycoon was not imprisoned. The ties of his wife Alexandra Engelhardt helped. For the Xavier the Junior clandestine activities the Russian tsarist government confiscated the property and the land in 1849 th. Getting to know about the imperial intentions, the owner allowed the local people to "enjoy" the lordly fortune. For three days the residents carried out from the palace everything their soul wished. The Branitski epoch on the Lyuboml land had ended
...In the late 19th century a new owner settled in the palace — she was a close relative of the Russian writer Ivan Turgenev. Subsequently, this young lady has combined her life with one of the non-native landowners and became Kappioni. The Branitski estate was the family nest of the Russian and the Italian until the 1939.
Address: 44300, Lyuboml, st. Pershoho May 1