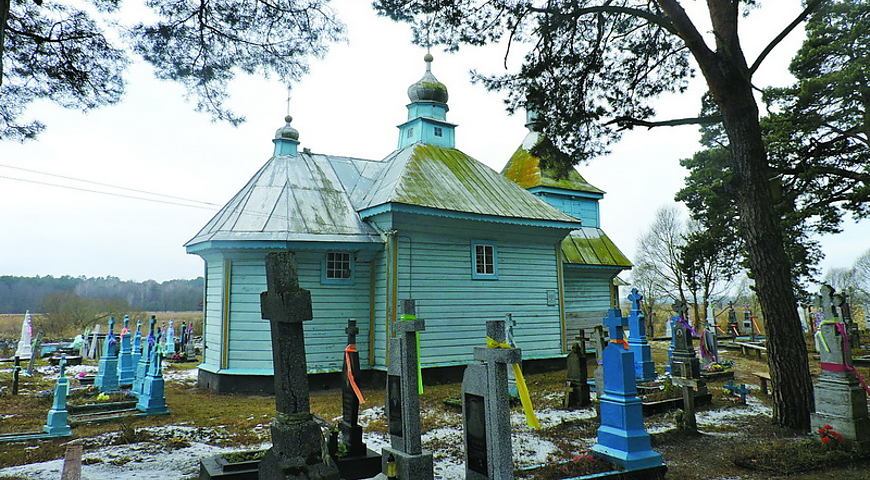 The church is the oldest monument of wooden architecture at Volhyn. The temple was rebuilt and repaired in the 18th and 19th centuries. He stands on the shore of the river, built without a single nail, fortified wooden material was substituted. Wooden, either one-roofed, with one tier belfry above the pews - composition, which is rare in Volhyn. In that building stands square in terms of the central compartment, unruffled from east and west and equally wide, equally high pentahedrall apse and rectangular pews. The latter has no windows - a feature of early wooden churches.
The original is the internal space of the central framework. Its walls are moving in a high tetrahedral pyramidal frame, above which the prismatic square - lamp, sewn and topped with crown canopy (19 c.). It is the only such a monument Volhyn region , which represents the most archaic type of Ukrainian wooden church. Under the roof preserved in unique architecture design ancient Cornice - in the form semi arch - bracket. Eastern frame was covered with closed carcass arch, which is now preserved only lower part hidden outside under the high roof of the dome.
The design of the bell tower - inside the frame-arch with carved brackets, reinforced material was substituted. In the19th century. The interior of the nave is combined with the main part of the temple freakish curly arch - neck, both sides of which the fragments of decorative painting (16 c.). In the temple there are icons of the 17th century. Written tempera paints.
Address: 45022, Volyn region., Kovel district, v. Hishyn