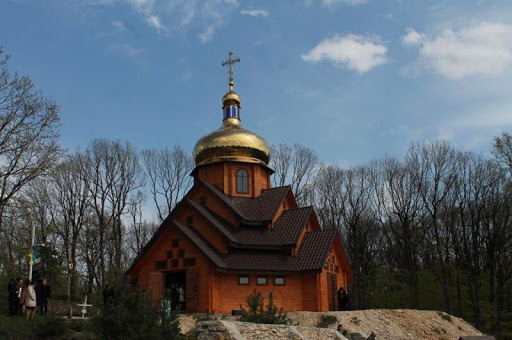 The forest massif of the Gurba tract in the people of the Gurba forest. It was here in 1944. units of the Ukrainian Insurgent Army were surrounded by the NKVD troops, the so-called "Gurban sack." Five thousand UPA soldiers courageously fought against the 30 thousandth NKVD troops, and after several exhausting days of the battle escaped from the encirclement. This battle went down in history as the biggest UPA battle.
Now, in the Gurba tract, a man's Holy Resurrection Monastery has been built, where the memory of soldiers who died in the Gurba forests every year who sacrificed their lives for the freedom and independence of Ukraine is honored. A Pantheon of heroes of the Gurben battle was also built here, where the remains of thirty-two dead UPA soldiers were reburied and the Column of Our Lady of the Protection was established. The column of the Mother of God is a six-meter vertical base lined with gray granite and a three-meter sculpture of the Mother of God.
At about 800m in the western direction from the Pantheon is an equipped source, a little lower on the slope is a small pond. Here you can organize a bivouac.
Address: 35752, Rivne region, Zdolbunovsky district, s. Bridges, Lesnaya St. 1