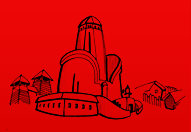 Peresopnytsia.
Recommended for incorrigible romantics and positive thinking realists.
Long time ago when the sun and the sky were lower and closer a princess lived. She wanted to make a wonder book – a book of no seen beauty. Wise monks agreed to assist her. They were drawing letters from the Holy Bible with sophisticated ornaments on its parchment pages. While they were making this wonder book, a lot of time had passed. They completed their work at a monastery. It's been a long time the princess and monks died, the monastery vanished. The book of wonder beauty has survived through times and has become an object of worship. Its name – the Peresopnytsia Gospel.
Vocabulary
Old times - 1556—1561
The princess – Anastacia Zaslavsks from the Golshanskies
Wise monks – the abbot of Prechistensky monastery, and the monk writer Mykhailo Vasyliovych.
Peresopnytsya Gospel – the first known translation of Holy Scripture in Ukrainian. That's why it is called the first book in our history. It is one of the most famous manuscriptual monument in old literature and art, the symbol of our statehood. The presidents of Ukraine oath on the Peresopnytsya gospel.
The majestic Duchy – an old city with bright history. Now it is a village Peresopnytsya, not far from Rivne. The cultural archeological centre was built in that village. It has the museum of the first book in Ukraine, museum of Peresopnytsya, the house of governor, defensive building of that time.
Behind the forests – 30 km from Rivne in Mlyniv direction.