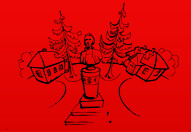 Where Mavka dreams
Recommended for those who like to read and to listen others reading
… The moon was very bright that night. A slender girl left her house and made her way towards the forest. She was listening its quiet rustling, scrutinizing its dark outline, trying to see Mavka from mother's stories. Many years after a talented and already known writer will write a fairy-tale drama far away her home. She will do that only during 10 summer days. Vodianyk, Rusalka, Perelesnyk and of course Mavka will be the characters. During all her life the woman was recollecting those forests, her white house with pink room where she had been writing a book for her sisters, and getting ready her first poetry digest to publishing. The house was destroyed during the war and later reconstructed and turned into a museum. Personal items, notes, family photos, books are exposed here, in the place of the writer's childhood and youth.
Characters:
Writer – Lesia Ukrainka. Real name – Larysa Petrivna Kosach-Kvitka
House – in May 1882 the Kosaches moved to the village Kolodiazhne from Lutsk when Lesia was 11.
Forest – Kolodiaznhe park
Mother – a poetess Olga Kosach.
Nickname – Olena Pchilka
Far away – Kutaisi, Georgia
Fairy-tale drama - "The forest song", the most famous writer's work
White house – built in 1890 for Lesia house with white walls
Pink room – Lesia's bedroom used as a cabinet sometimes
Book for sisters – written by Lesia book " The ancient history of oriental nations"
Poetry digest – "On the songs wings"
Museum – Lesia Ukrainka museum in Volyn region, Kolodiazhne village, established in 1949